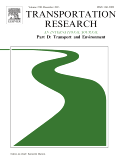 RICCARDO ACCORSI, RICCARDO MANZINI, EMILIO FERRARI, 2014, A comparison of shipping containers from technical, economic and environmental perspectives. TRANSPORTATION RESEARCH. PART D, TRANSPORT AND ENVIRONMENT, 26, 52-59
Highlights
• An integrated approach is used to evaluate alternative containers in maritime transportation.

• Four case studies of international shipments are conducted.

• Thermal liner container are the best solution to control the quality, costs and environmental effects.
Abstract
This paper compares standard, reefer, and thermal liner containers for the long-range transportation of temperature-sensitive products. The thermal liner container is an alternative solution for maritime, rail and truck transportation between the dry and reefer containers. This study introduces a multi-criteria methodology to assess and compare alternative container solutions that involves technical, economical, and environmental perspectives. The proposed methodology is applied to four significant instances of maritime shipments, which highlight the performances of alternative container solutions in reducing the transport temperature fluctuations. Economic aspects and transport environmental impacts are also analyzed.
Keywords

Maritime transportation

;

Freight container

;

Temperature sensitive products

;

Food supply chain