The FSC Center supports the formation of PhD Students, whereof research topics are related to the operations management for food products along global supply chains.
PhD Students have the opportunity of collaborating with company of the territory in order to set up win-win partnerships with the twofold objectives of developing new logistics solution and finding opportunities of research.
 The main research areas relate to:
Study and development of optimization techniques for the storage, production and distribution of perishable products along the food supply chain. The supply chain is studied in all its phases and processes with respect to the "from farm to fork" perspective. From the packaging to the food processing, from the distribution to the reverse logistics, all these themes represent interesting research topics.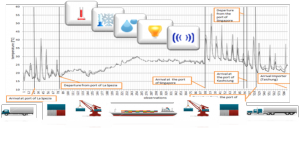 Analysis, design and evaluation of food traceability systems as well as quality and safety monitoring systems for perishable products management.
Study and design of integrative logistics systems economically and environmentally sustainable.