1st International Workshop on Food Supply Chain 
CEUB, Bertinoro, Italy, June 27th – July 1st, 2011
"The Food Journey"
Sustainable transport: quality of food products at the consumer's location
ISBN: 9788890650000
______________________________________________________________________________
Organizing Institute
Alma Mater Studiorum – University of Bologna
Conference chairman
Riccardo Manzini, Bologna University
Scientific Committee of WFSC 2011
Riccardo Manzini, Bologna University; John Bartholdi, Georgia Tech(USA);
Susan Cholette, San Francisco State University (USA); Emilio Ferrari,Bologna University;
Mauro Gamberi, Padova University; Maria Elisabetta Guerzoni, Bologna University;
Giovanni Lercker, Bologna University; Alejandro Mac Cawley, Georgia Tech (USA) and PUC (Chile);
Leorey Marquez, CSIRO, Australia; Sergio Maturana, PUC (Chile);
Arrigo Pareschi, Bologna University; Luigi Ragni, Bologna University;
Claudio Riponi, Bologna University
Keynote speakers of WFSC 2011
Riccardo Manzini, Bologna University (Chairman);
John Bartholdi, Georgia Tech(USA);
______________________________________________________________________________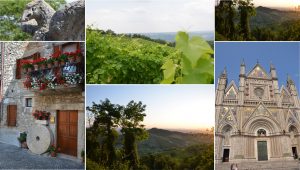 The first International Workshop on Food Supply Chain – IWFSC was held on June 26 – July 1 , 2011 in Bertinoro (FC) and Orvieto (TR), Italy.
Motivation
This workshop  hosted the annual meeting of the International Wine Supply Chain Council (http://www.scl.gatech.edu/wscc/). Participants to the workshop were researchers, food producers, logistic providers, food associations and public institutions from different countries such as Australia, Mexico, United States, Italy, etc. During the conference the results of the international project on traceability of food products, "Food Supply Chain – Bologna University" , were illustrated.
The conference belongs to the schedule of the project Food Supply Chain which started in 2010 by the University of Bologna – Department of Industrial Engineering (DIEM) and Food Science –  in collaboration with several international research institutions. Aim of the project is to study the challenges arising from the transport of food products in order to protect and enhance the export of local foods, and identify critical issues & new opportunities for the distribution chain.
Call for papers
During the workshop in Bertinoro an international conference on food supply chain topics (see the "Call for papers" section and "Topics of conference" section in the website) is organized: contributions are welcome from university, industry and research institutions. Submitted papers will be reviewed for merit and contents. Also in-progress research will be accepted. More information can be found in the Information leaflet.
Important dates for WFSC 2011
Discounted Workshop Registration Deadline: March 31 , 2011
Deadline Abstract "Scientific Papers": April 15, 2011
Full paper submission: May 15, 2011
Workshop Registration Deadline: June 10 , 2011
Accomodation
WFSC 2011 was held in Bertinoro (FC) and Orvieto (TR), Italy.
Outcomes from the conferences
List of some relevant papers
Bartholdi J.J., Mac Cawley A. F. (2011). Tracking the temperatures of international wine shipments: processes, information handling, and temperature simulation, Bertinoro 27 Jun–1 Jul, 2011.
Marquez L., Estrada-Flores S., Higgins A. (2011). Development of a fruit & vegetable supply chain emissions model for victoria, Bertinoro 27 Jun–1 Jul, 2011.
Piazzi P., Adami S., Bortolini M., Gamberi M., Accorsi R., Manzini R. (2011). Design, development and test of a vibration monitoring embedded system, Bertinoro 27 Jun–1 Jul, 2011.
Manzini R., Accorsi R., Bortolini M., Gamberi M., Magnani F., Marinelli G. (2011). Accelerating life testing for food packaging. a case study of italian oil for food distribution, Bertinoro 27 Jun–1 Jul, 2011.
Cholette S. , Jog S. (2011). Farmers' markets: addressing the carbon footprint dilemma, Bertinoro 27 Jun–1 Jul, 2011.
Comba L., Dabbene F., Gay P. (2011). Management and optimization of perishable food supply chain: an overview, Bertinoro 27 Jun–1 Jul, 2011.
The workshop will include a public meeting for producers, distribution logistics, associations and public bodies and other stakeholders through free registration on this website. The workshop continued with tours and other meetings in Orvieto thanks to the support of "Cittaslow" (www.cittaslow.org).
29th June: Titignano Court and Wineyards
30th June: Public Italian Event within the Palace of Tastewith "CittàSlow" and Orvieto Wines Consortium Members and Institutions.