Fourth International Workshop on Food Supply Chain (WFSC 2016) Stellenbosch, South Africa, September 11th to 16th, 2016
Food for thought: Information for Smart Solutions to solve Big Problems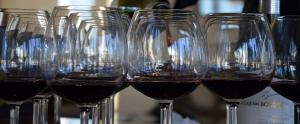 The Fourth International Workshop on Food Supply Chain (WFSC 2016) will be held September 11th to 16th in Stellenbosch, South Africa. The first workshop was held in Bertinoro, Italy, in June 2011, the second in Viña del Mar, Chile, in March 2013 and the third in San Francisco, USA, in November 2014. The Fourth Workshop will be held in conjunction with the South African Operations Research Society's 45th annual conference (ORSSA 2016). The keynote speakers at ORSSA 2016 will be Prof Elena Fernandez (Universitat Politecnica de Catalunya, Spain and President of EURO), Prof Paul Fatti (Emeritus Professor, University of the Witwatersrand, South Africa) and Prof Erwin Pesch (University of Siegen, Germany). For more information, please go to: http://www.orssa.org.za/wiki/pmwiki.php?n=Conf.ORSSA
Motivation
The food supply chain is one of the largest and most complex supply chains in the world. It encompasses everything from producers and shipping companies, to grocers and restaurants. Everyone needs food for survival, and most of us thoroughly enjoy to eat. Thus, it makes sense that the industry would take advantage of the same big data analysis as financial firms and marketing departments to better understand their consumer, increase efficiency and even create new recipes to try. The big question is: Are we doing so? We are looking at how information and big data analysis will impact the food supply chain of the future.
Call for papers
Participants are encouraged to submit papers describing their research on different topics related to the food supply chain. The papers will be subject to peer review. WFSC will publish its own proceedings, separate from the ORSSA proceedings. Abstracts should therefore be submitted to esbethvandyk@gmail.com rather than on the ORSSA conference website. Please adhere to the deadlines below, so the proceedings can be published at the time of the conference.
Important dates for ORSSA/WFSC:
| | |
| --- | --- |
| | Abstract submission closes for reviewed papers |
| | Notification of acceptance of abstracts of reviewed papers and go- ahead to submit full papers for peer-review |
| | Submission of full papers for inclusion in the WFSC proceeding closes |
| | Abstract submission closes for presentation of non-reviewed papers |
| | Notification of abstract acceptance of non-reviewed papers |
| | Notification of acceptance of reviewed papers for proceedings |
| | Early bird registration closes |
| | Cut-off for qualification of reduced room rates at the hotel |
| | |
Riccardo Manzini, Bologna University (Italy); John Bartholdi, Georgia Tech (USA); Susan Cholette, San Francisco State University (USA); Alejandro MacCawley and Sergio Maturana, PUC (Chile); Leorey Marquez, CSIRO (Australia); Raymundo Forradellas, UNC (Argentina); Rene Villalobos, ASU (USA); Renzo Akkerman, TUM (Germany); Esbeth van Dyk, iKhanyisa (South Africa).
Schedule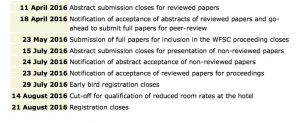 Conference registration
Please register at http://www.orssa.org.za/wiki/pmwiki.php?n=Conf.Register Early bird (discounted) registration opens on 14 March and closes on 29 July 2016. Full rate conference registration closes on 21 August. No registration will be accepted by ORSSA after 21 August 2016.
Accommodation
The ORSSA conference/WFSC workshop on 11-14 September will be held at the Lazerac Hotel in Stellenbosch. The Lanzerac is one of the oldest wine estates in South Africa, with beautiful historic buildings in a picturesque setting. A special rate has been negotiated by ORSSA. Please make a reservation directly with Denise Bezuidenhout at the Lanzerac on banqueting@lanzerac.co.za and ask for the reduced ORSSA rate. The special rate for a classic room is R1200 (approximately $80 or €70) per person sharing per night or R1600 (approximately $107 or €94) single. There are also luxury rooms and junior suites available at higher rates.