1st Edition, Edited by Riccardo Accorsi and Riccardo Manzini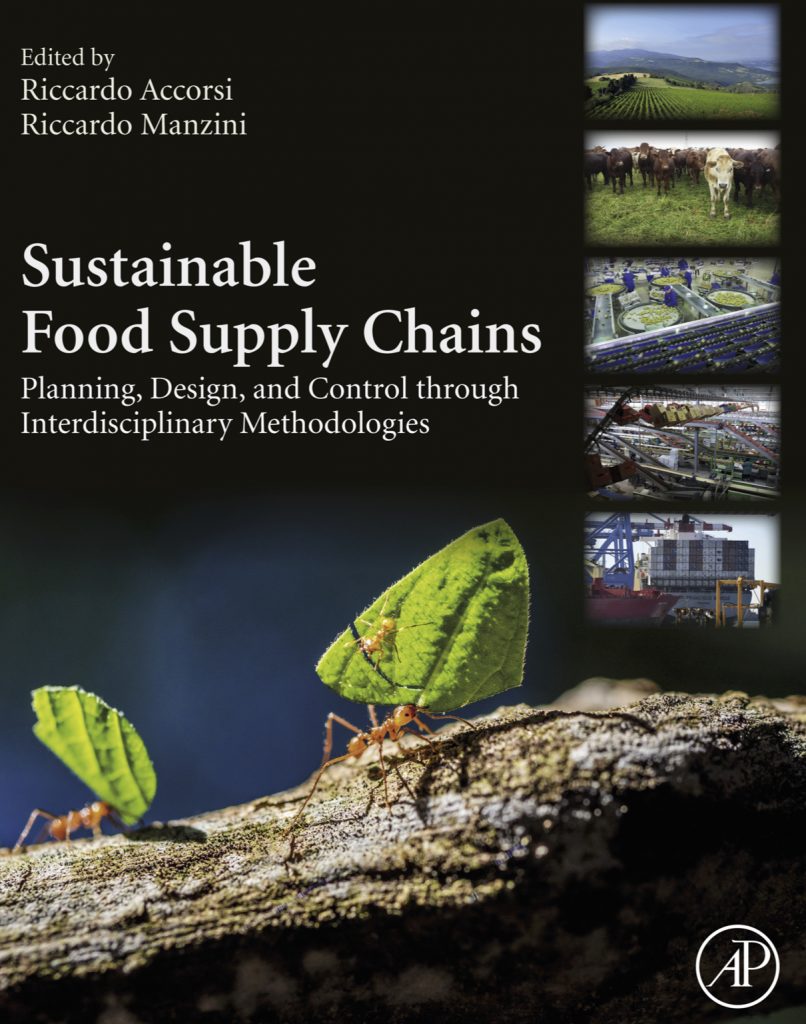 Description
Sustainable Food Supply Chains: Planning, Design, and Control through Interdisciplinary Methodologies provides integrated and practicable solutions that aid planners and entrepreneurs in the design and optimization of food production-distribution systems and operations and drives change toward sustainable food ecosystems.
With synthesized coverage of the academic literature, this book integrates the quantitative models and tools that address each step of food supply chain operations to provide readers with easy access to support-decision quantitative and practicable methods. View more >
Key Features
Contains quantitative models and tools that address the interconnected areas of the food supply chain
Synthesizes academic literature related to sustainable food supply chains
Deals with interdisciplinary fields of research (Industrial Systems Engineering, Food Science, Packaging Science, Decision Science, Logistics and Facility Management, Supply Chain Management, Agriculture and Land-use Planning) that dominate food supply chain systems and operations
Includes case studies and applications
Readership
Researchers, practitioners and graduate students studying food ecosystems, food operations management and other related disciplines.
Table of Contents
1. Modelling Inclusive Food Supply Chains toward Sustainable Ecosystem Planning
2. Emerging Issues and Challenges in Agri-Food Supply Chain
3. The role of modelling and systems thinking in contemporary agriculture
4. Food Shelf-life Models
5. A Support-Design Procedure for Sustainable Food Product-Packaging Systems
6. Design Advanced Food Packaging Systems and Technologies through Modelling and Virtualization
7. Sustainable food processing: A production planning and scheduling perspective
8. Design-support Methodologies for Job-Shop Production System in the Food Industry
9. The Storage of Perishable Products: A Decision-support Tool to Manage Temperature-sensitive Products Warehouses
10. Mathematical Modelling of Food and Agriculture Distribution
11. Using Vehicle Routing Models to improve Sustainability of Temperature-controlled Food Chains
12. Cool chain and temperature-controlled transport: An overview of concepts, challenges and technologies
13. Food Transportation and Refrigeration Technologies – Design and optimization
14. Quality assessment of Temperature-sensitive High-value Food Products. An application to Italian fine chocolate distribution
15. Models and Technologies for the Enhancement of Transparency and Visibility in Food Supply Chains
16. Forecasting for food demand
17. Food Systems Sustainability: The complex challenge of food loss and waste
18. Handling Food Waste and Losses. Criticalities and Methodologies
19. Sustainable Urban Food Planning: Optimizing Land-use Allocation and Transportation in Urban-Rural Ecosystems
20. Sustainable Operations in Reusable Food Packaging Networks
21. A Model to Enhance the Penetration of the Renewables to Power Multi-Stage Food Supply Chains
22. Decision Support Models for Fresh Fruits and Vegetables Supply Chain Management
23. Modelling By-products and Waste Management in the Meat Industry
24. Recipe-driven Methods for the Design and Management of Food Catering Production Systems
Details
No. of pages: 394 Language: EnglishCopyright:© Academic Press 2019 Published: 10th June 2019Imprint: Academic PresseBook ISBN: 9780128134122 Paperback ISBN: 9780128134115
About the Editor
Riccardo Accorsi
Riccardo Accorsi is assistant professor at the University of Bologna's Department of Industrial Engineering where he teaches Industrial Logistics class. His research interests lie in operations management and in the development of decision-support models and tools for the design, planning and optimization of sustainable production and distribution systems with particular focus on food supply chains. Leading member of the Food & Wine Supply Chain Council (FWSCC), he has written numerous publications on the management of food supply chain operations. He has been involved in many funded research projects and consulting for industry.

Riccardo Manzini
Riccardo Manzini is a full professor of Logistics and Facility Planning at the department of Industrial Engineering, Alma Mater Studiorum University of Bologna, where he also acts as the director of the Food Supply Chain Center and the Warehousing Center. His research activity deals with the design, management, control and optimization of production system and supply chain, including laboratory research on monitoring and simulating the environmental effects of logistics and packaging decisions and solutions on perishable products. He is the founder, organizing and chair of the International Workshop on Food Supply Chain, "The Food Journey", and has been the guest editor for the International Journal of Production Economics in a special issue on Sustainable Food Supply Chain.