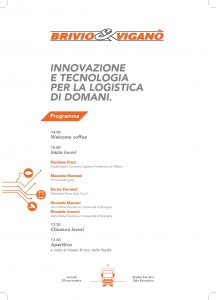 On November, 20th, the Food Supply Chain Center will participate at "Innovazione e tecnologia per la logistica di domani".  The event organized by the distribution company Brivio & Viganò will be held in San Siro stadium, in Milano. A delegation of the Food Supply Chain Center will present original studies on the storage and distribution of perishable products dealing with climate conditions.
This is the abstract of the discussion that will be presented by Prof. Riccardo Manzini and Eng. Riccardo Accorsi:
Climate-driven logistics. La logistica 4.0 per la filiera agroalimentare. Nuove sfide ed opportunità per lo stoccaggio e la distribuzione di prodotti deperibili.
Il sistema logistico è un vero "ecosistema" da progettare, pianificare, gestire e controllare nella sua interezza, attraverso la ricerca del trade-off tra molteplici variabili in gioco. Dall'efficienza di costo, alla sostenibilità ambientale, passando attraverso la sicurezza e la qualità di prodotto nel punto di consumo.
La Logistica si sposa allora alla gestione dell'energia e delle risorse del territorio, quali terra ed acqua, il cui fabbisogno atteso da qui al 2050 si prevede in forte crescita. Obiettivo di ogni ecosistema è quello di essere bilanciato ricorrendo, dove necessario, a scelte che compensino e mitighino gli effetti nocivi imputabili al consumo delle risorse naturali, alla trasformazione e, naturalmente, alle scelte logistiche che trasversalmente supportano lo stoccaggio e la movimentazione della merce, dalla materia prima ai prodotti finiti.
L'università di Bologna, attraverso il Food Supply Chain center, è impegnata nello sviluppo di modelli e strumenti climate-driven di supporto alla progettazione, gestione ed ottimizzazione di reti distributive complesse. Questi tool innovativi sono capaci di veicolare i prodotti verso i percorsi più "opportunistici" compatibilmente alla shelf-life di prodotto, al sistema di packaging, ai consumi energetici, al clima, etc. Si tratta di una sfida molto ambiziosa che chiama le aziende (produttori, provider logistici, GDO, etc.) e i centri di ricerca a collaborare insieme nell'interesse del sistema ovvero del Pianeta e di chi lo abita.